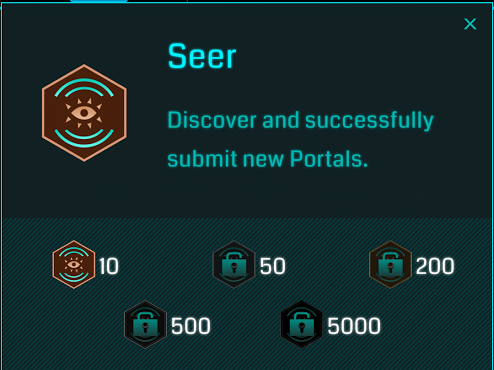 Here's another quick rant since I'm ranting....
The Seer Badge.
Wow what a mess. While I do consider this a fail on Niantic's part, I would classify it as they had the best of intentions, but I don't think they anticipated the overwhelming response they would get.
My best guess this was an attempt to increase the number of portals quickly. I like so many other agents mainly submitted portals pretty casually.
Then the Seer badge was announced. Agents could level up based on submitting new portals. Awesome idea, right?
Well yes it was, but I don't think Niantic realized the tidal wave of responses they would get. While the seer badge was active I probably submitted 200+ portals. Yet, I've only had a very few approved. Of the portals I've submitted I expect a minority to be rejected for legitimate reasons. I was gunning for submitting 500+ portals.
As submittals took longer and longer, I stopped submitting as many.
Now to Niantic's credit they initially suspended portal submittals to apply for the badge and I believe they have officially ended submittals.
Those who still have portals submitted before then will be counted towards the seer badge and those after will not.
At first this really irritated me, but since then they have made many other badges, some are quite easy to get like the Sojourner it becomes a disappointment at worst because while I want to get all my badges to Onyx, this one will forever be stuck as bronze...